Koh Ngai has it all! Turquoise water, a snow-white beach and colorful coral reefs. The best – you have it all for yourself.
A crowd of odd-looking birds is populating the tree right behind us. All black and with a disproportionately large and oddly curved yellow beak they stare upon us from above. Before us lies an endless, golden beach, and on its end are trees just like this one alternating with palms. The warm water that continues to slowly work itself up the sand, is nicely warm and looks perfectly turquoise. Further back in the surf it is quite dark , which reveals the underlying coral reef. A snorkel that is outstanding from the water reveals a diver who is observing this wonder of nature. The evening falls over this paradise and lets the limestone cliffs that are rising out of the water in the distance look like mythical creatures. It is a glorious sight. We go barefoot on this sand that feels like powdered sugar, while small crabs flee sideways from us and urge into the water. A few hundred meters further a restaurant establishes its tables just behind the beach. He had caught fresh snapper fish, the owner calls out to me, and shortly afterwards we sit at a wooden table with an ice cold Chang beer, looking out to sea, while our snapper is being grilled. An article about a paradise on earth, the Trang islands in the Andaman Sea of Thailand.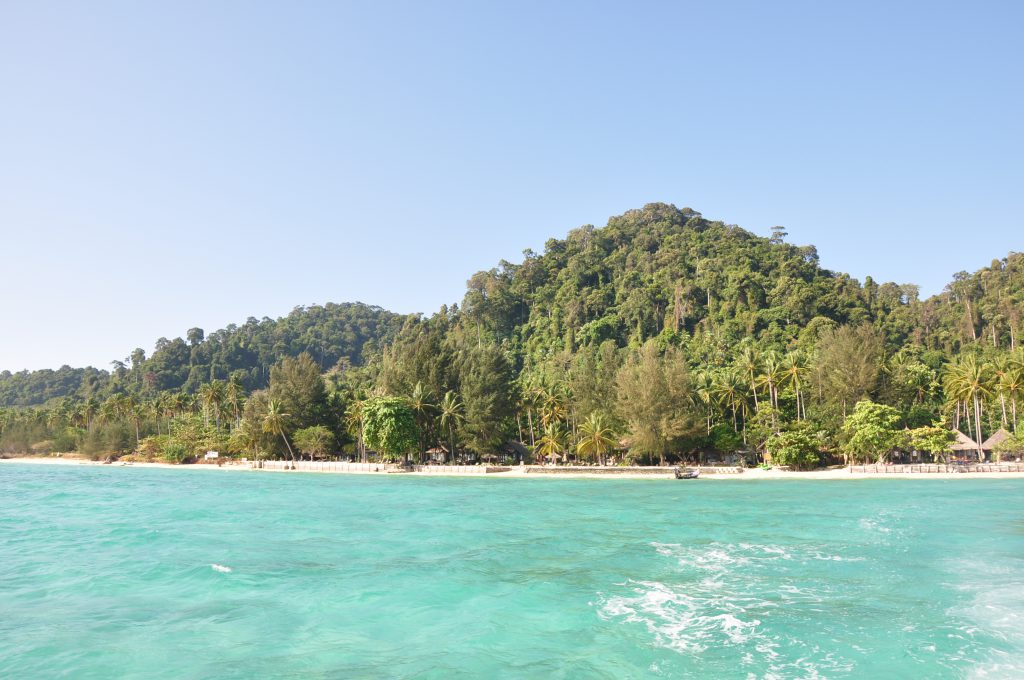 Choosing the right island
To choose the right spot of sandy beach in Thailand should be carefully considered. Because it depends entirely on the particular mood in which one finds oneself. Either you feel like partying on full moon parties, want the ultimate diving experience or want to spent quiet days on an island without cars and electricity to feel once like Tom Hanks in the film "Outcast". All this is possible, and therefore I want to provide a small overview of opportunities that are waiting for you. East of the narrow southward meandering country there is the southwestern Gulf region with the famous Trio: On Ko Pha Ngam people dance until the break of dawn to the full moon, Ko Samui offers endless luxury and the small island Ko Tao is a real diving mecca. Of course, all these islands are incredibly beautiful and surely you will find your very own piece of snow-white beach, but the true paradise is located on the other side of Thailand.
The Andaman Sea
It is the Andaman Sea, which once led the real adventurers come here, just as Leonardo Caprio in the movie "The Beach". It's the shimmering turquoise water, colored by the underlying coral reefs, these endless, perfectly white beaches. These bizarre shapes of countless limestone cliffs that rise steeply out of the ground, overgrown with dense jungle. It is these hundreds of islands that you can find at this coast, extending all the way down from Myanmar to Malaysia. That's exactly the reason why this land is no longer a secret. But still, once you've seen the Andaman Sea, you want, just like everyone else, stay forever.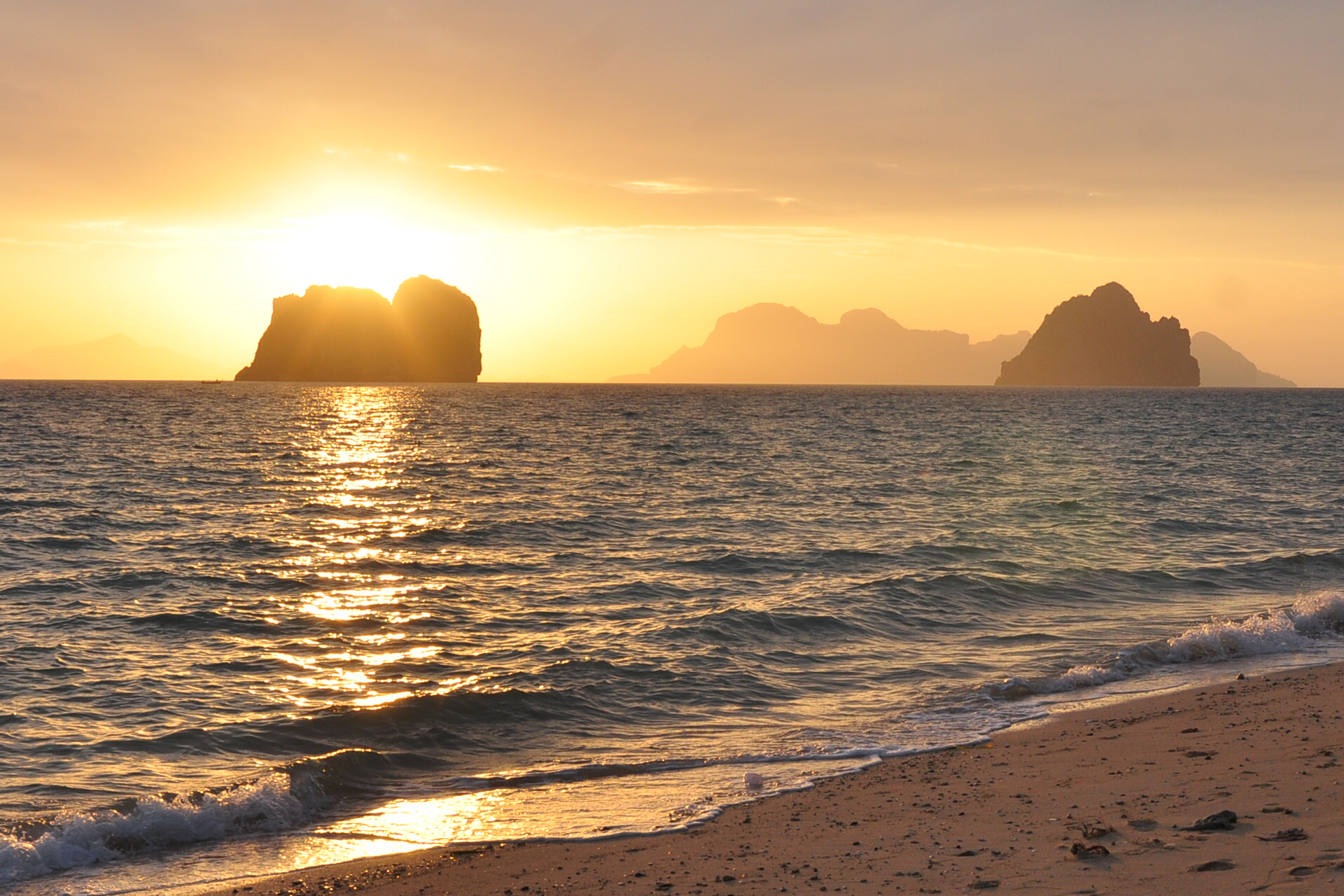 "Lonely Planet Thailand" is your passport to the most relevant, up-to-date advice on what to see and skip, and what hidden discoveries await you.
In the very north of the Andaman Sea lie the islands of Ko Chang and Ko Phayam. Two islands, which are accessible by sparse and still radiate an original character. Further south there is the jungle shaped Province Pha-Nga with the ever-popular stretch of beach in Khao Lak. Also the two brothers Ko Yao Yai and Koh Yao Noi, where life is still quiet and close to the original, can be found in these waters. Then there is Phuket of course, with its beaches populated by red grilled Russians and where the masses meander through the streets of Patong between bars and go-go girls. Phuket, this is luxury, million dollar yachts and a lot of package tourists, which really doesn't let this half-island win the price for lonely days on the beach. Then there is the Krabi province, famous for its towering limestone cliffs where the legendary film "The Beach" was shot. This should make you immediately understand that parts of this province are completely overrun. Going to Ko Phi Phi, where those famous lagoon is located, is a bad idea as you won't see any sand due to countless people coming here. Package tourists who want to take it easy like to spend their days on Ko Lanta while climbers go on to Railay, romp around on the rocks and spend their nights in bamboo huts on the beach.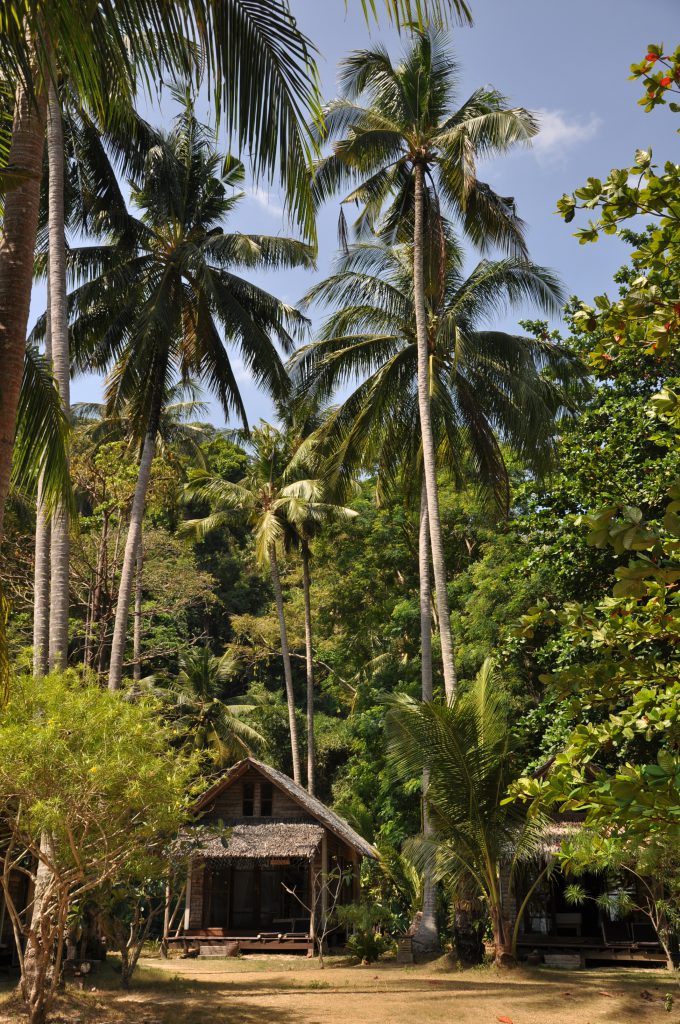 The Trang Islands
Our choice fell on the Trang islands even further south. Our criterion: We wanted one thing in particular, find rest in paradise, and that's exactly what we found here, at Koh Ngai. But as I said, it all depends on your mood and what you want. The archipelago, which in addition to Koh Ngai also houses the islands of Ko Muk, Ko Kradan, Ko Sukorn or Ko Libong, are all surrounded by crystal clear water. Here you can still find intact coral reefs and pristine beaches all for yourself. Here, there are no roads and therefore no cars and often, as this is the case in Koh Ngai, not even a small village. Those seeking peace and seclusion will find it here.