»Article continued, read the first part!«
Koh Ngai
Our way to Koh Ngai firstly leads us to Phuket, from where we want to go on by ferry. On the famous Peninsula we remain two days and we chose Phuket Town as our base, a colorful melting pot full of cute Sino-Portuguese town houses, stylish restaurants and cafes. Best: Phuket City is unlike the rest of the island – because no private beach – very inexpensive and an ideal place to to explore nearby beaches by scooter or bus. Anyway, this is not our place, and after two days we are happy to leave for our remote paradise and can not wait to enter the Tiger Ferry early in the morning that will take us to Koh Ngai. The boat ride is just as beautiful as chaotic as on our way lots of backpackers leave the boat for Ko Phi Phi or Ko Lanta while others enter for destination Ko Lipe. However, to find your own backpack under a huge mountain is not an easy task. Eventually, one shouts: "Ko Ngai"! Only a handful of travelers leave the ferry for the little boat that has just docked at the ferry, while the masses, more than a hundred backpackers, further move to Ko Lipe. Everything done right! As the ferry disappears, only the sound of waves remains and a sight which you can't even take for real: Ahead of us is a white, immaculate beach and the turquoise sea in front of it. Behind you can see a dense jungle with a few roofs of bamboo huts protruding out of it that belong to the few local hotels and resorts. This, this is wordlessly clear, is paradise!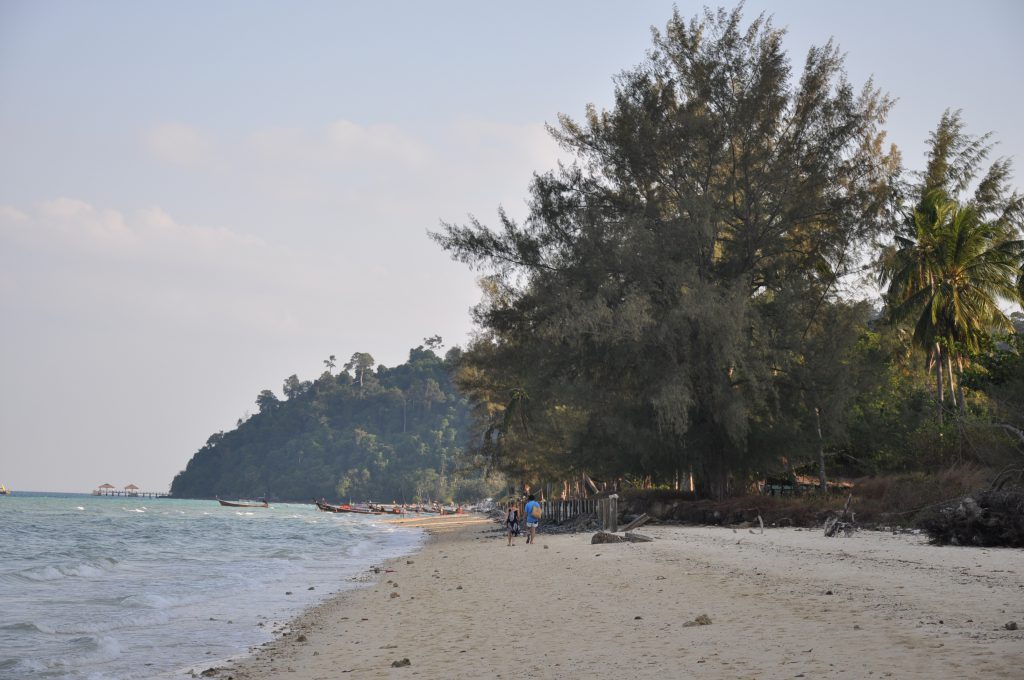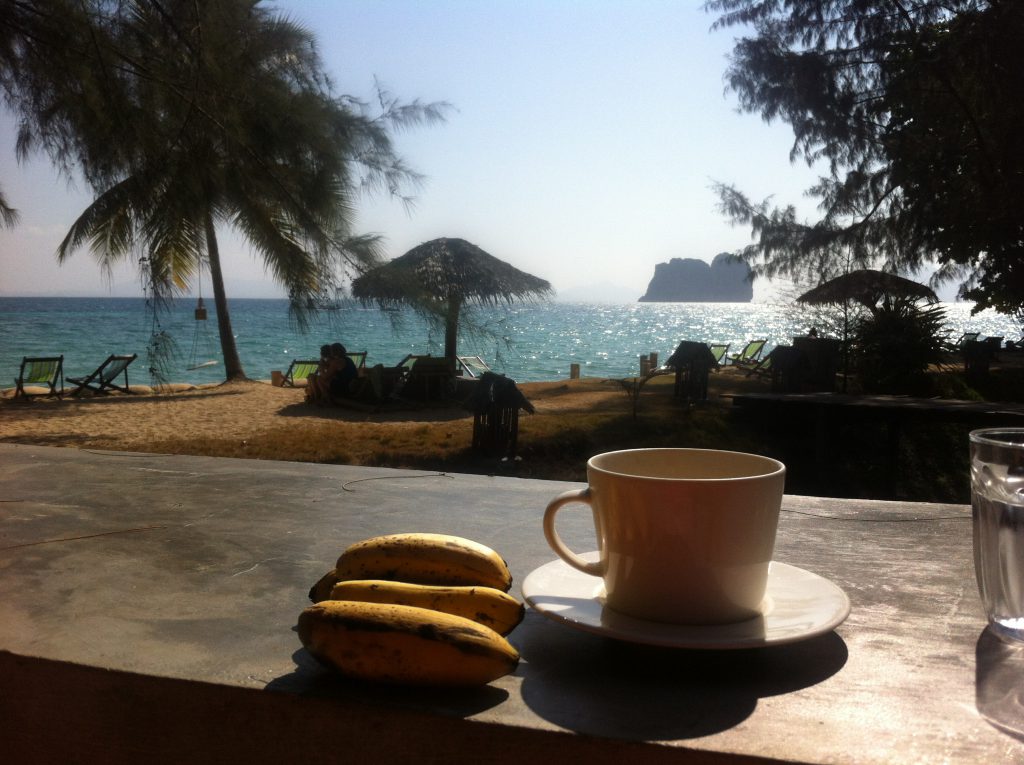 "The Beach" shouldn't be missed on a lazy day at Koh Ngai
Not cheap, not expensive!
On the island there are no cars and no roads and besides in hotels not even electric lighting. A few very nice places that have understood that you do not have to make it all in concrete, are harmoniously placed into this idyll. Most hotels consist of many small bungalows, which are always offset from each other and placed between palm trees. One suspects this is not cheap here. That's right, but it's not expensive neither. Prices range in the mid segment and the purse is shrinking per night by 70 to 100 Euros (for a room). That makes Koh Ngai more expensive than Ko Phi Phi or Ko Lipe, but still cheaper than Ko Muk, Phuket, Ko Lanta or Ko Samui. You won't find luxury here, but equally dilapidated cabins neither. Ultimately, you pay for this loneliness that has become rare in Thailand, and for the feeling to once feel like Robinson Crusoe.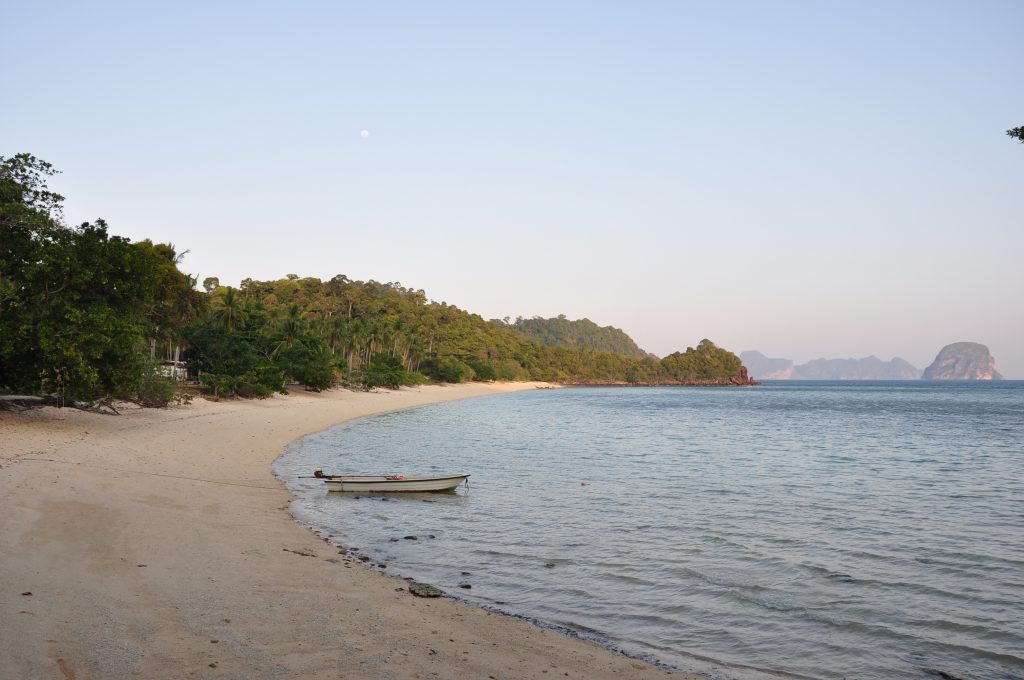 Days in Paradise
What do you do now all the whole day in paradise? Well, if you are really tired of the sight of the turquoise waters and this perfect palm-lined sugar beach, have spied the fascinating underwater world of the coral reef, ate freshly caught fish at a wooden table right at the waterfront, let your soul dangle in a suspended hammock between palms while the setting sun breaks on mystic sea rocks – well, for those Koh Ngai has something more in its pocket so you won't become bored.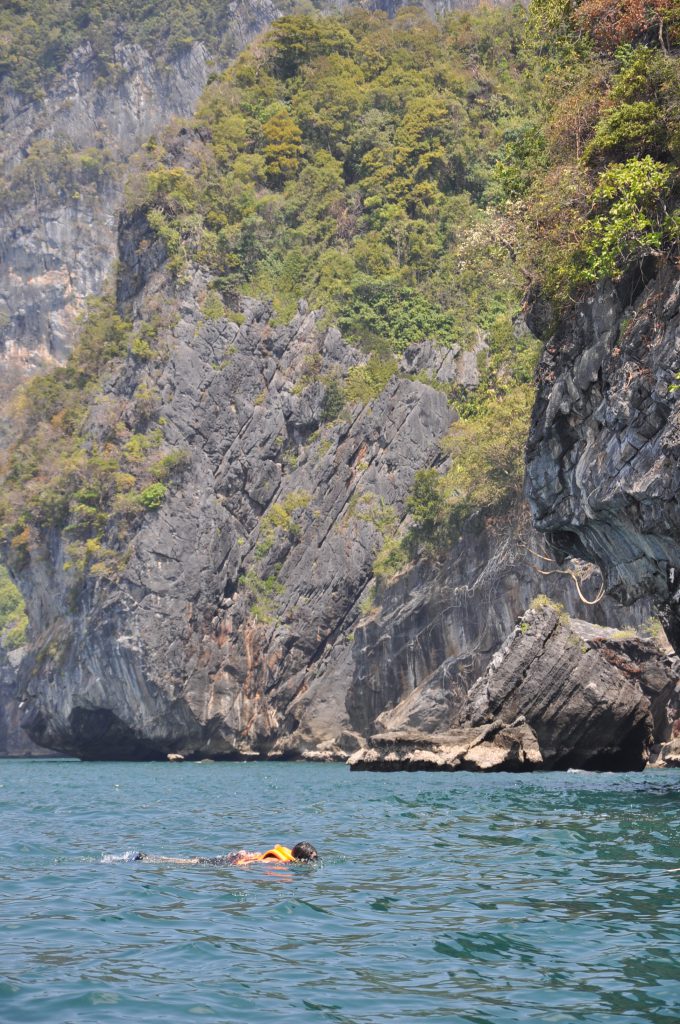 Paradise Beach
On the other Side of Koh Ngai you can find Paradise Beach, a lonely, beautiful, crescent-shaped beach that you have all to yourself. This part of the island can be reached in about a twenty minute walk through the jungle. Be careful, there are snakes out there! Leaving even this beach behind you arrive at a small bay which is excellent for snorkeling. From lobsters over moraines to Nemo you can find everything here. The reef here ranges right up to the beach, so it is not suitable for swimming. Take care that you don't break the corals here!
Snorkelling
Almost all resorts and hotels offer snorkelling trips to the nearby islands of Ko Chuak and Koh Ma, where you can jump off the boat into the refreshing water to dive along rocky cliffs where you can see whole swarms of fish. Avoid the visit of this old pirate lagoon which is hopelessly overcrowded. Spend your time by snorkeling instead or at the fantastic beach of Ko Kradan.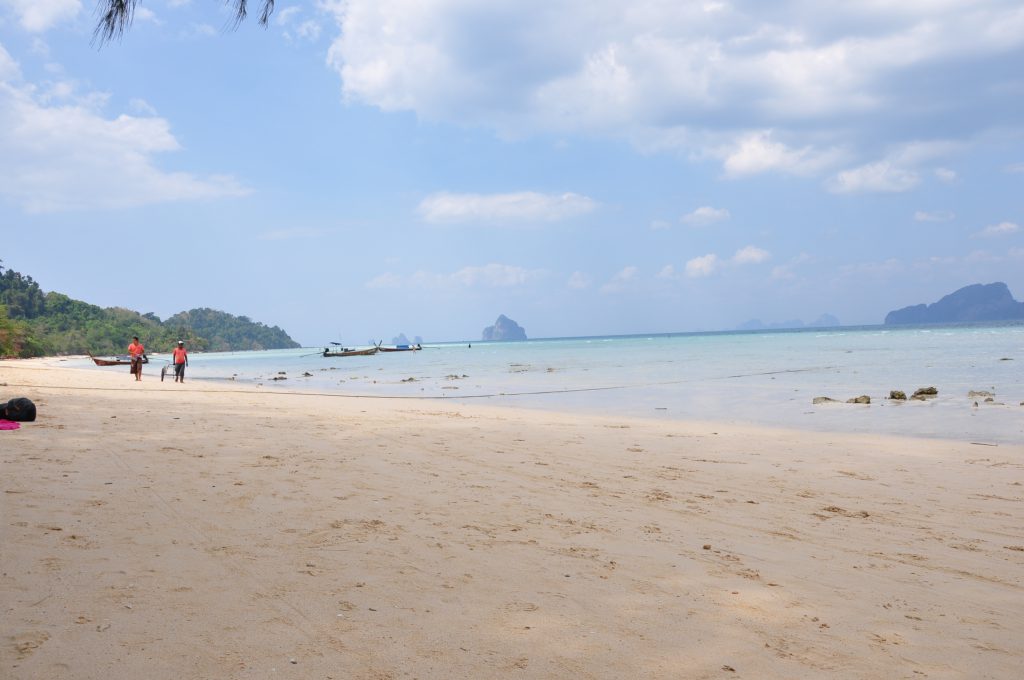 The absolute killer beach – Koh Kradan
Highly Recommended is a visit to the island of Ko Kradan, which is also possible under a snorkeling tour. This beach is probably one of the most beautiful in this region and also beats Koh Ngai by far (But not the hotels). Only a few tourists find their way here and only a few bungalows stand out from the dense jungle. You might consider to stay here for a day or two.
Thank you for reading! If you like what you read, check out the English Section of my blog, where you can find plenty of interesting and well researched articles, such as:
Liao Yiwu – The Corpse Walker: Real Life Stories: China From the Bottom Up
Moganshan – about a very special, almost forgotten place in front of Shanghai and how an Englishman lost his faith in China, just to rediscover it right there.
Guangxi – Chinas enchanted province